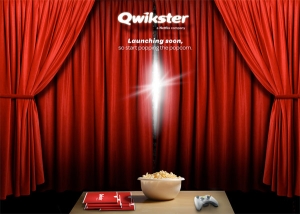 After the company's recent streaming price hike debacle, Netflix has decided to make more changes to their business model.
Announced by CEO Reed Hastings on the company's blog, Netflix will formally split their rent-by-mail and streaming services in the next few weeks. The streaming service will retain the Netflix name while the disc-by-mail service will now be known as "Qwikster." Qwikster will also add a video game option (specifically PS3, Wii and Xbox 360 games) at that time. No pricing for game rentals was announced, but the option was described as "similar to our upgrade option for Blu-ray," which costs an additional $2 per month.
"Members have been asking for video games for many years, and now that DVD by mail has its own team, we are finally getting it done," Hastings said.
Other changes will also be coming to the dual services. Besides formally splitting the company names, Netflix and Qwikster will also have completely separate movie queues, rating options, billing procedures and contact information for each user. So if you subscribe to both and need to change an email address or credit card number, you'll have to do it in two places.
Hastings, and new Qwikster CEO Andy Rendich, have created a short video explaining all of these changes, which you can find after the break. In it, the two executives also apologize for the "arrogance" of the previous price hike and promise that things will be different this time.
Whether or not things will be different, you know GameFly just went into panic mode.