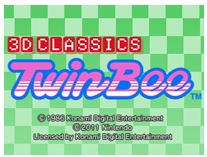 Nintendo has updated their trio of online shops with new games and, once again, the collective response of the world is "Never heard of them."
But if you want to give this week's new releases a whirl, the 3DS eShop received a "3D Classics" of TwinBee, a Famicom-only vertical shooter that never made it to America back in the day. But thanks to the handheld's virtual console, gamers can play as it looked originally or in a new 3D mode.
Also available this week is a pair of puzzle-platformers: Aya and the Cubes of Light is available as WiiWare while Escape Trick: Ninja Castle is now on the DSi Shop.
Finally, Break Tactics, a "full-scale tactics game," is available to download from the DSi Shop.
More information on all of these titles can be found in the Nintendo Download weekly newsletter.