Ready Player One is Ernest Cline's first novel, though it's not his first foray into a nerdy niche topic. You may have seen the movie for which he wrote the screenplay, the veritable nerdfest Fanboys. Cline definitely has a penchant for this sort of thing – he has a vast store of knowledge of geek culture and a ridiculous ability to transform it into pure entertainment. Lightning strikes twice in this case, as his novel completely won me over.
Author: Ernest Cline
Publisher: Crown Publishing
Release Date: August 4, 2011
Ready Player One presents us with a dystopian future, in which the world has become a very drab and impoverished place. It's 2045, and most of the people in the world are addicted to a new kind of drug: an alternate reality called the OASIS, created by eccentric genius James Halliday. A few years ago, Halliday died. As he had no heirs, he announced – posthumously – that he'd created an Easter Egg within the OASIS, and that whoever found it would inherit his fortune. Halliday had created an elaborate game within the OASIS, one that quickly turned into an obsession for many.
Our main character, Wade Watts, is one of the many who quickly became obsessed with the contest. Wade – who goes by his avatar's name, Parzival – is a teenaged orphan, living in poor conditions with a dozen people in a trailer, just trying to stay under everyone's radars and do what he can to win the contest. Those obsessed with the contest are called "gunters," and Parzival's best – and only friend – is another gunter named Aech. Add a girl named Art3mis into the mix, and you've got your typical story trio.
But it's obvious there's nothing typical about this story. Sure, it's got all the trappings of a traditional Bildungsroman, but it's set in the backdrop of a video game world that only exists in a virtual simulation. Not only that, but Halliday – who was a teenager in the 1980s – was obsessed with that time period, and as a result, the gunters dedicated themselves to learning as much as they possibly could to prepare for finding the Easter Egg.
This was where the real entertainment of the book was for me. Cline's meticulous attention to detail was absolutely beyond fun. For anyone who grew up in the 80s, this book will bring you flying back to the television shows, movies, music, and video games from that decade. Everything from arcade games to the shows that aired, to a staggering number of movies and musicians, graces the dialogue and free time of the main characters.
The plot, while it doesn't take any pains to be complex, is far from boring. Filled with exciting battles, curious puzzles, and, of course, a love story, it's sweet and simple but fulfilling. It weaves around the video game jargon adoringly, bringing the best of both worlds together – giving you everything but a controller and letting the story do the rest.
If anything, the only problem I had with the book was that Cline spent the time writing a novel and not writing a comprehensive history of video games. Since that's already been done, though, and there's not anything quite like what Cline has accomplished here, I'm glad he went with fiction instead of history. If he could expand on the books out now – say a continuation of what David Sheff started in Game Over: How Nintendo Zapped an American Industry, Captured Your Dollars, and Enslaved Your Children, or Steven Kent's The Ultimate History of Video Games – that would be an amazing feat. If Cline could obsess this hard over more recent video games, he could easily write the next installment of either of those books. Again, this isn't a complaint – and I'd love to see more fiction from Cline, especially of this caliber – I just feel like he's very talented.
Ready Player One is a fully immersive experience, bringing way more to the table than I expected or imagined. It's a sweet and adoring story told inside a video game, genuinely bringing the culture of gaming to life within a fictional universe. It's pleasant and loving, affectionate and dedicated, and most of all, it's absolutely fun. I can't recommend this book enough to any and every person who could possibly be reading this review right now.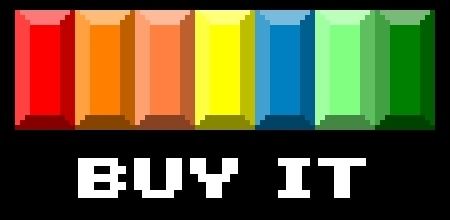 Review Disclosure: A review copy of Ready Player One was provided by Crown Publishing for the purposes of this review.