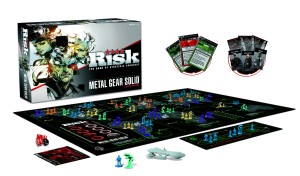 Just when you thought it was safe to pick up your controller, Konami announced they're making Risk: Metal Gear Solid. This limited edition will be available for pre-sale starting October 3, and will cost $49.95.
Adam Sblendorio, Lead Game Designer for USAopoly, said, "Metal Gear Solid builds on the modernized and streamlined Risk game play introduced in 2008 with all new Metal Gear Solid components to create a unique, fun and fast paced experience for Risk and Metal Gear Solid fans alike. In order to win you'll have to take advantage of Metal Gear Solid specific high powered black market weapons, hire the right mercenary boss at the right time, manage alliances and watch your back as the mobile battleship, Outer Haven, can invade territories from new locations (watch out Australia)."
With six zones and 42 territories (and an additional Outer Haven battleship); 275 custom plastic pieces that represent the five PMCs, neutral armies and cities; 8 Boss Cards, 40 Drebin's Cards, 42 Territory Cards and eight earnable Rewards, the game is sure to be as fun as it is complicated. And really, what better way to flex your strategic conquest muscles than through the mercenary styling of the Metal Gear universe?
But if you want it, you better hurry, USAopoly is limiting production to 2,014 numbered sets.