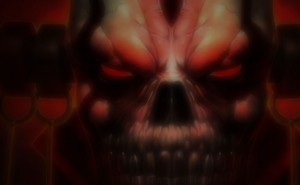 Square Enix has launched a new teaser website in anticipation of this month's Tokyo Game Show. The site, which bears the header A Brand New Title of Hell, offers players two columns of words. The columns include a variety of themed pairs such as "Boy or Girl," "Light or Shadow" and "Angel or Devil."
After entering the correct answer, "Die or Die," the stone wall in the background slides apart to reveal a pack of miniature devils. Destroying the devils reveals the happy little fellow to your left. Looks a little bit like Skeletor. Or perhaps Shao Kahn.
It's unlikely that skullface up there is either of those characters. Instead, he probably belongs to the Army Corps of Hell, a title that was trademarked by Square Enix last year.
We'll probably find out more at this year's Tokyo Game Show, which begins on September 15.