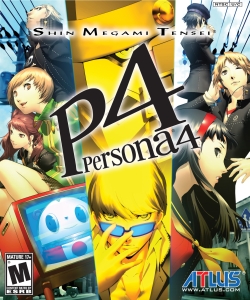 Atlus is set to shower us with more Persona love and will be porting Persona 4 to the PlayStation Vita as "Persona 4: The Golden". This remake will contain a host of new features including a new character, a new opening sequence with new music from Shouji Meguro, and more voice work than the original PS2 version.
Atlus has also announced that it will release a 2D fighting game called Persona 4: The Ultimate in Mayonaka Arena. And though its title says "Persona 4", it will also feature characters from Persona 3. This student/persona brawl will be the product of a partnership between Atlus and Arc System Works, the makers of fighting games such as the BlazBlue and Guilty Gear series. Persona 4: The Ultimate in Mayonaka Arena is scheduled for a Summer 2012 release (in Japan) on the PS3 and Xbox 360.
Persona 5 has also been teased and some details, such as the game's staff, have been revealed. The regular team, including Director Katsura Hashino and composer Shouji Meguro,is returning, but no other details (including which systems it'll land on) have been mentioned. I'm personally hoping that it'll come to PS3 and expand on the magic I felt from stumbling around drunkenly in a bar.
[Source: Andriasang]