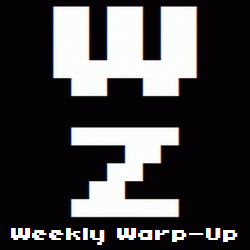 No, that's not a typo. Welcome to the Weekly Warp-Up, your weekly wrap-up of the biggest and the best articles posted at Warp Zoned this week…
Get Warp Zoned!
Warp Zoned gets literary this week with The Geek Genius Behind Ready Player One in An Interview With Ernest Cline. If you haven't read the book that Senior Editor Nicole Kline calls "the greatest video game romance ever," you really should. And you should also check out the movie he wrote, Fanboys. Yes, The Force is strong with this one.
Hit the jump for the rest of the Weekly Warp-Up.
The Week in Reviews…
The Week in New Games…
Amazing Paperboy Delivers…
It's a Secret to Everybody…
Steve Ballmer reveals that Xbox TV is still in the works and will be available by the end of the year.

And Finally…
Conan O'Brien shows off a kinder, gentler Gears of War 3 on his show.