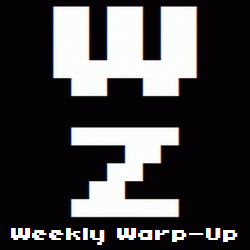 No, that's not a typo. Welcome to the Weekly Warp-Up, your weekly wrap-up of the biggest and the best articles posted at Warp Zoned this week…
Get Warp Zoned!
The Tokyo Game Show is in full swing and we're still sorting through all the news that escaped from Japan's biggest video game showcase. But we also turned our attention to some of the pre-TGS festivities, including Nintendo's 3DS Conference. The worldwide debut of the 3DS Slide Pad and all the new game announcements were the subject of Episode 21 of the Warp Zoned Podcast. We also spent a little bit of time discussing Resident Evil Revelations and the game's new TGS trailer. Apparently no one can support Rachel's breasts.
Hit the jump for the rest of the Weekly Warp-Up.
The Week in Reviews…
The Week in New Games…
Amazing Paperboy Delivers…
It's a Secret to Everybody…
It's TGS time! Everything is real!
And Finally…
Download a free copy of Portal from now until September 20. For Learning!