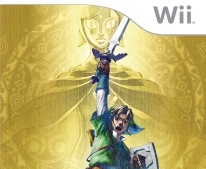 Regardless of how much the fan's ask for it, Nintendo has never elaborated much on the Legend of Zelda timeline. But as the publisher reveals more story details about The Legend of Zelda: Skyward Sword, the beginnings of the Zelda saga are starting to finally come into focus.
Set in a time before the Master Sword existed, Skyward Sword begins in Skyloft, just before the major bird-flying competition. Zelda and Link are school friends and while she's no longer a princess, she is Principal Gaepora's daughter.
Link's nemesis at school (and in the bird-flying competition) is named Groose (I guess Maverick and Iceman were busy). However, he soon leaves the bully behind when he meets Fi, the spirit of the Goddess Sword. Fi's guidance will eventually lead Link to witness (or maybe even cause) the creation of the fabled Master Sword.
Do you got all that? Now tell us how all the rest of the games fit together Nintendo. The Legend of Zelda: Skyward Sword will be available in stores on November 20.