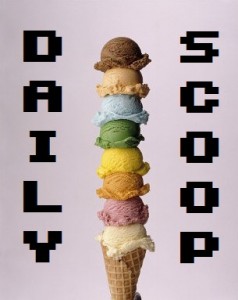 Warp Zoned is running another contest! If you've purchased Batman: Arkham City for the PS3, enter to win the Sinestro Corps. Batman Skin. We'll be drawing a winner at high noon on Friday, October 21, so enter now!
Amazon's got an awesome Deal of the Day in video games today! It's Aksys' Bit.Trip Saga 3DS for $29.99! I am so tempted to pick this up right now. It's a bundle of some of the best downloadable games, ready to go in 3D. Urge to purchase… rising…
There are also a bunch of sales going on right now over at GameFly! The Bargain Bins are full to burst with deals on PlayStation 3, Wii, and Xbox 360 games. Yum!
Ript has an awesome gaming shirt today, simply titled "Another Castle" and with a new take on the much-loved phrase:

How many t-shirts can Nicole buy in one week? The world may never know.