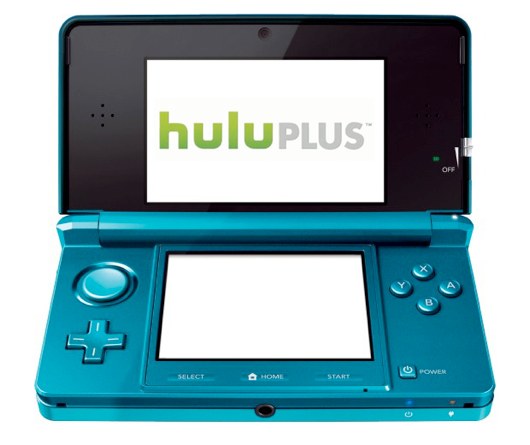 Nintendo has made a big, if unsurprising, announcement: Hulu Plus is coming to the 3DS and the Wii. Hulu Plus – which costs $7.99 a month – is host to dozens of current and popular seasons of television shows from all the major channels.
In addition, Nintendo also announced some major additions to the 3DS. 3DS owners will now be able to record up to 10 minutes of 3D videos, opening up venues for all manner of creative endeavors – including 3D stop-motion animation videos. There are also new musical artists coming to Nintendo Video, including Foster the People's "Don't Stop (Color on the Walls)," as well as a new animated 3D video from Dreamworks called "Thriller" which features characters from Shrek. New puzzles will also be available in the Mii Plaza, and a new dungeon added to Find Mii.
Reggie Fils-Aime, President of Nintendo of America, said, "Nintendo 3DS continues to evolve with great new features and functions designed to reinforce its position as a premiere entertainment device. All of these features, in addition to great upcoming games like Pokémon Rumble Blast on October 24, Super Mario 3D Land on November 13 and Mario Kart 7 on December 4, make Nintendo 3DS a smart gift option this holiday season."
Still want more? Nintendo also announced four new games – Freakyforms, Pushmo, Swapnote, and Dillon's Rolling Western. The system update to the 3DS will be happening at the end of November, and Hulu Plus will be coming "soon." Hit the jump for a complete description of the four new games.
Freakyforms: Your Creations, Alive! lets players create creatures and bring them to life. This game is all about creation, customization and exploration. Available in November for $6.99.
Developed with 3D game play in mind, Pushmo asks players to solve more than 250 puzzles by pulling and pushing blocks. Players can also create their own custom puzzles. Launches in December.
Swapnote gives Nintendo 3DS owners the chance to send 3D messages to their friends via the SpotPass™ and StreetPass features. Users can hand-write messages in 3D and also include picture and sound. Available for free download in December.
Dillon's Rolling Western is a 3D tower defense game that blends action and strategy. It features an armadillo who defends an Old West town rendered in 3D by literally rolling over his enemies. Launches in Q1 2012.