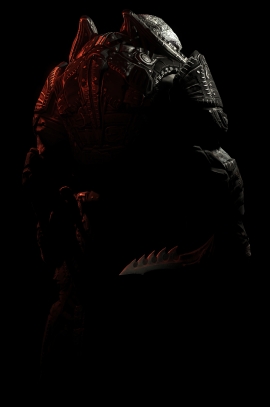 Gears of War players will be able to lead the Locust horde for the first time on December 13 when the "RAAM's Shadow" expansion is released for Gears of War 3. Taking control of General RAAM himself, players will storm the human stronghold of Ilima City in a battle against some familiar faces.
"RAAM's imposing size and strength, along with his Kryll shield, make him one of the most powerful and daunting foes in the Gears universe," said Epic Games Design Director Cliff Bleszinski. "We think fans are going to have a blast unleashing hell upon the poor humans for the first time in a campaign setting."
If you'd prefer to stomp some Locust grubs instead, players can also take up the human side of the battle and try to save Ilima City:
"RAAM's Shadow" drops players into the events of Sera post-Emergence Day, as Zeta Squad is enlisted to evacuate Ilima City and protect the citizens against a Locust Kryll storm. Taking on the infamous Locust leader General RAAM, Zeta is led by Michael Barrick (from Gears of War comics fame) and comprised of familiar faces such as Lt. Minh Young Kim (Gears 1) and Tai Kaliso (Gears 2), and also includes a new female comrade, Alicia Valera.
The expansion will also add six new multiplayer characters, the Chocolate Weapon Set, and an additional 250 Gamerscore. All of this has been priced at 1200 Microsoft Points ($15), unless you sprung for the GOW3 Season Pass, which will include "RAAM's Shadow."