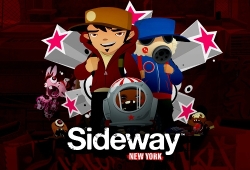 Sony continues to roll out their "Only On PSN" exclusives with Sideway: New York, one of yesterday's new additions to the PlayStation Store.
Sideway: New York is a puzzle platformer that follows Nox as he attempts to navigate a New York that is entirely covered in graffiti. The game has been priced at $9.99, but PlayStation Plus subscribers can snag it for 20% off.
Also new this week is a pair of NeoGeo remakes: the side-scrolling shooting of Metal Slug 2 and the one-on-one fighting of King of Fighters '96. Both games can be downloaded for the PSP as well.
Finally, XS Junior League Football was added to the store as the latest PSone Classic. I never heard of it, either.
More information on all of this week's new releases (and game add-ons) can be found at the PlayStation.Blog.