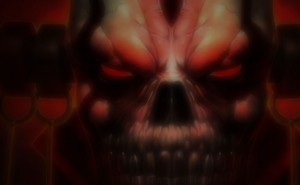 Square Enix's Army Corps of Hell was one of the biggest surprises to come out of this year's Tokyo Game Show. The megapublisher would only confirm a Japanese release during show (obviously), but today they've revealed it'll also be available for the Vita's US launch next year.
Taking control of a massive army of goblins to win back Hell, players will make entensive use of the Vita's rear touch pad to unleash hell on their enemies:
Defeated in battle, the King of Hell is stripped of his powers and banished from his throne. Burned to a meager corpse, the dethroned king uses the last of his strength to take command of a corps of weak-minded goblins. He commands this ragtag army of bloodthirsty goblins as he fights through hell to reclaim his throne, destroying his enemies and looting their corpses for equipment along the way.
Army Corps of Hell will also include a local co-op mode that promises bigger bosses and bigger loot. Awesome! Now we just have to narrow down when the Vita's North American launch actually is.