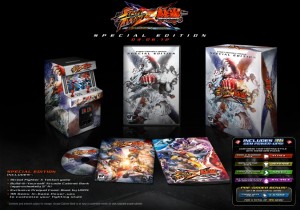 The biggest battle royale since Mario took on Sonic now has an official release date. Capcom used this year's New York Comic-Con to confirm that Street Fighter X Tekken will be available for the PS3, Xbox 360 and Vita on March 6, 2012. A PC version will be released at a later date.
In addition to the release date, Capcom has unveiled a ton of new gameplay details in an informative six-minute trailer which you can view after the break.
A new "Gem System" will ensure that no two players will play the same way, even if they choose the same character. Dozens of Gems, which fit into five categories (Attack, Defense, Speed, Balance and Cross Gauge), are available to customize each fighter. And the best way to get a jump on the competition is with the Street Fighter X Tekken Special Edition, which will include 36 Gems.
Oh, did I mention Capcom announced a Special Edition for Street Fighter X Tekken? Because they did, and it is awesome. Besides the Gems and a copy of the game, the Special Edition will include a prequel comic created by Udon and a five-inch coin bank shaped like an arcade cabinet (a disclaimer dashes our hope of true handheld play as the cabinet is NOT PLAYABLE according to Capcom).
And if you look close, Capcom also accidentally announced a Vita launch window. Way to go guys.