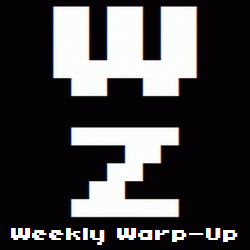 No, that's not a typo. Welcome to the Weekly Warp-Up, your weekly wrap-up of the biggest and the best articles posted at Warp Zoned this week…
I've got nothing. No fancy theme to tie together this week's batch of new stories and no big news story that trumps everything else. It was just your average early fall week. If I were an athlete giving a post-game interview, I'd tell the reporter that I took this week one day at a time and that I gave everything 110%. So I guess you can also consider this the 110% Edition of the Weekly Warp-Up.
Get Warp Zoned!
This week, we took a look back at the month that was in another episode of Warpback. What We Played in September 2011 didn't feature too many games that were released in September 2011, but there's some good stuff in there.
Hit the jump for the rest of the Weekly Warp-Up.
The Week in Reviews…
The Week in New Games…
Amazing Paperboy Delivers…
It's a Secret to Everybody…
And Finally…
A special (and limited) Metal Gear Solid version of Risk is in works. That's… I guess that makes sense.