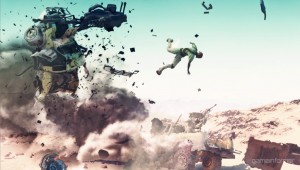 The image to your left (click to enlarge it) is the first screenshot from BioWare's upcoming, untitled game.
The unnamed game will make its worldwide debut at next month's Spike TV Video Game Awards. Spike TV and MTV2 will broadcast the awards show on Saturday, December 10 beginning at 8 PM (Eastern Time).
So what exactly are we looking at? It appears to be a collision between two off-road vehicles in a dusty environment not unlike Borderlands/Fallout/Rage. It's safe to say that this is not Dragon Age III or Jade Empire 2. Instead, we've just been given our first glimpse of a brand new BioWare franchise developed by a brand new BioWare studio (possibly BioWare Montreal).
So what exactly is it? Beats me.
[Source: Game Informer]