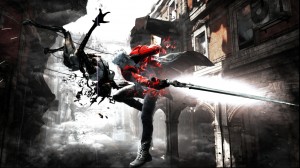 It's official: The new Devil May Cry game is a reboot of the franchise, not a prequel, reports Degenki Playstation.  When DMC: Devil May Cry was announced for the PS3 and Xbox 360 at TGS last year, it was apparent that this wasn't the Dante we all know and love.  He even had a new emo-tastic look, complete with white hair and disheveled demeanor.
Degenki Playstation goes on to say that this iteration of the Devil May Cry series takes place in parallel universe (with a completely different Dante) to the one from the original Devil May Cry series, which very well could mean that we could still get a Devil May Cry 5 sometime in the future.
The magazine says that this shift in universe was actually Ninja Theory's idea.
Also in the wake of this DMC news, a series of new screenshots for the upcoming game were released yesterday, shedding even more light on the upcoming game. Hit the jump to view all ten screenshots.
[Source: Siliconera]