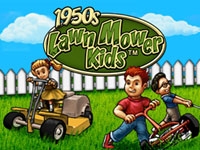 It's Thursday, so Nintendo has updated their trio of download services with a new smattering of games that are all about the kids:
1950s Lawn Mower Kids (DSiWare) – Help Tom, Nancy and Tim mow lawns among UFOs, people, dogs, ducks, cats and birds. Avoid mowing down flower beds or crashing into tables and angry animals.
Balloon Kid (3DS eShop) – Save your brother from peril by floating through eight different stages as you follow his trail of balloons. Test your piloting skills to avoid enemies, or let go of your balloons to face enemies on the ground.
Gnomz (WiiWare) – Welcome to the world of Gnomz, an exciting new arcade fighter for the WiiWare service. Battle in 25 action-packed arenas and discover magical power-ups, flying elephants, rainbows and glowing reindeer.
House M.D. – Episode 4: Crashed (DSiWare) – Dr. Gregory House and his elite diagnostic team race against the clock to unravel a new medical mystery. An aging reality- TV host seems to care less about his own health than his fame and reputation. Track down the correct diagnosis by interviewing and examining the patient, running lab tests, searching locations and even performing surgery.
More information on all of these games can be found within the Nintendo Download weekly newsletter.