Even though it has only been a year since the last engrossing title featuring the world's favorite mystery-solving English professor, Level-5 and Nintendo are continuing to keep loyal Layton fans fed with a new Professor Layton adventure. This recent release – Professor Layton and the Last Specter – is the fourth entry in the series of five currently-planned Layton games, boasting the same intrigue and complexity of all its predecessors.
Platforms: DS
Publisher: Nintendo
Developer: Level-5
Genre: Mysterious Problem-Solving
Release Date: October 17, 2011
ESRB Rating: Everyone
Last Specter still takes place in England, but is set prior to the events of the previous games, serving as a prequel and proper introduction to the characters and stories throughout the rest of the series. This story takes place in the strange town of Misthallery – home to Luke, the Professor's soon-to-be sidekick. Misthallery is a town currently experiencing problems with a large ghastly specter that has the tendency to destroy areas of the town, causing general distress among its residents. Luke's father is formally introduced as a figurehead in Misthallery, and as a man who cannot understand his son's admiration towards Professor Layton, nor his fascination with puzzles.
As the Professor, Luke, and Emmy – the professor's current sidekick – eventually venture off to solve this mystery, they are confronted with a new cast of characters who are as creative and interesting as others in the series. In addition to all-new puzzles, Last Specter also offers a variety of new gameplay add-ons. Throughout the game, Professor Layton will continuously quiz the player on the story's progression, and force the player to sculpt an objective using clues found thus far. This is a new addition that not only keeps players on their toes, but also keeps them in line with the game's plot. The story mode can take about 20 hours on average, but there are additional puzzles to solve after the conclusion as well – similar to the previous Layton games.
The puzzles found in Last Specter are just about on par with puzzles in the previous games; there is a decent mix of less difficult puzzles and extremely difficult puzzles – depending on the player's knack towards certain types of puzzles. For me, the math ones seemed too time-consuming, so naturally, I used up quite a few of the infamous hint coins this way. With the exception of a few real stumpers, the puzzles in Last Specter were actually quite a bit easier than the previous games – either a subtle attempt to target a larger audience, or an unintentional fluke with regards to difficulty.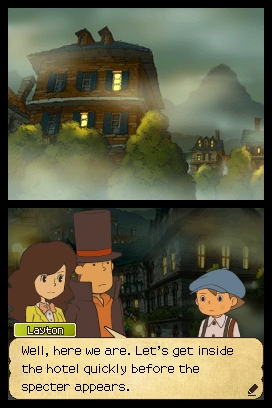 Each of the previous Layton games has three mini-games accessible from the Professor's briefcase, and Last Specter is no different. This game features a puppet show mini-game, where the player must collect verbs by completing the game's standard puzzles, and using those verbs to fit into a pre-existing story, obviously narrated by puppets. A set of train mini-games require the player to lay down train tracks on a grid, in order to avoid collision with other moving trains and objects, while collecting enough fuel to power the player's train to its final stop. The third and final mini-game type takes place in a fish tank, where a fish must speed around its tank, bouncing off of walls and player-placed bubbles in order to collect each tank's coins in the time allotted. These mini-games are tough, albeit fun – a recurring combination that seems to win me over every time.
There is one other mini-game available much later in the story, where Luke's pet mouse initiates a game of Whack-a-Mouse – you guessed it, a whack-a-mole clone. Though this mini-game has no importance in the story, determined players who continue to play Whack-a-Mouse will rank up their mouse-bopping title upon reaching any of the score thresholds.
As a fan of the Layton series, I will admit that Last Specter's story was not quite as engaging as that of the second (Professor Layton and the Diabolical Box) or third (Professor Layton and the Unwound Future) games, but the addition of London Life had potential to make this game less of a letdown.
London Life is an entirely separate game released with the Japanese and American versions of the game – sorry Europe, you already know how to live the London Life. This additional content is vaguely reminiscent of Animal Crossing, allowing the player to create a new custom character in the town, move into a house, do chores around the town, and further customize their character with new clothes, hats, and accessories. I have to admit, I was excited by the fact that this game was partially created by the father of Earthbound, but I have found no other reason yet to associate the two. London Life is not a key component of the Professor Layton experience, but an interesting attempt to marry the sim-like play of Animal Crossing to the world of Professor Layton. It's a smart idea, when you consider the target audience for each game.
As a whole, Professor Layton and the Last Specter delivers, but doesn't quite bring home as much bacon as I'd have expected. By no means is it a letdown to fans of the series, but it seems that the hot streak of additional quality and fun across concurrent titles in the series has come to a close. London Life doesn't quite do enough for me to justify a half-decent story and fewer puzzles in the main game, mostly because the premise of the city-dwelling sim is a curve ball – an unexpected pair of underwear at Christmas to the series' fans. In that way, it's nice to have, but is especially unnecessary, considering all the good stuff that came before it. Layton fans, I still advise you to pick up Last Specter. Newcomers to the series, start from Professor Layton and the Curious Village and play this after all the others.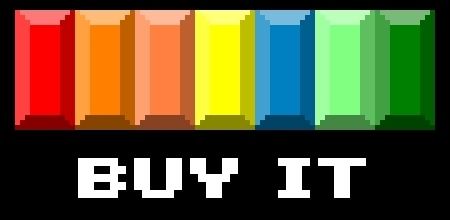 Review Disclosure: A retail copy of Professor Layton and the Last Specter was purchased by Warp Zoned for the purposes of this review.