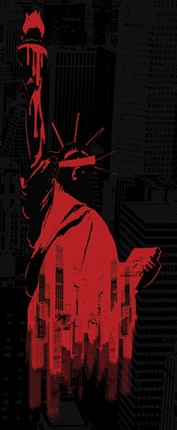 Game Informer has revealed that the cover of their December issue will belong to Tom Clancy's Rainbow 6: Patriots, the first new game in the Rainbow 6 series since 2008's Tom Clancy's Rainbow Six: Vegas 2. But don't get too excited just yet, the PC, PS3 and Xbox 360 game won't be released until 2013.
"Terrorism has evolved, and so has Rainbow 6," said Creative Director David Sears. "In Rainbow 6: Patriots, all the team play, tactics, and realism that fans of the series love have been coupled with an exciting new narrative direction. This adds an unprecedented level of humanity that will make Rainbow 6: Patriots an extremely tense and immersive experience."
Patriots will be developed by Ubisoft Montreal and will take the series into the realm of domestic terrorism for the first time (the "exciting new narrative direction" Sears was talking about). This time, the Rainbow team will be searching for the True Patriots, a militia organization that wants to "behead corporate America" and overthrow the U.S. government.
The word "controversial" is used multiple times in Game Informer's December issue tease. Yet, the game's story seems to be taking many of its cues from Timothy McVeigh and the 1994 Oklahoma City bombing. McVeigh even referred to himself as a "patriot" after his arrest.
It'll be interesting to see if Tom Clancy's Rainbow 6: Patriots is a "ripped from the headlines" adaptation of that terrorist act or if it'll pull a "24" and use the homegrown terrorist militia angle as a lead-in to something bigger.