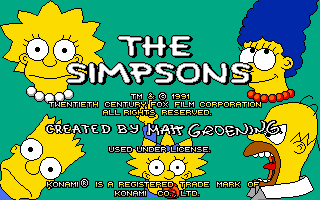 Have a cow man! The Simpsons Arcade Game is finally (it was originally released in 1991!) getting a proper port on modern day consoles. The announcement was leaked by a recent rating on the Australian Classification Board website, which also reveals a few choice bits of information.
The Simpsons Arcade Game will be published by Konami (who also created the original arcade game) and developed by Backbone Entertainment (who also ported Konami's classic X-Men Arcade). A PlayStation Network and Xbox Live Arcade release wasn't confirmed, but it seems likely. The rating certificate also mentions online play.
Since the show's debut in 1989, more than 20 "Simpsons" video games have been released, but the arcade game has never received a proper port. A PC version was released in the early 90s, but it just wasn't the same (remember when PCs were less capable than consoles?).
I can't wait to be an underachiever (and proud of it) again.