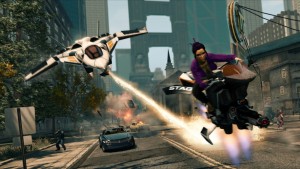 While it took Rockstar more than three years to announce a sequel to Grand Theft Auto IV, THQ is not wasting any time when it comes to the Saints Row series. Danny Bilson, the publisher's Executive Vice President of Core Games, will appear on G4's X-Play today where he will announce Saints Row 4. For those keeping score at home, Saints Row: The Third won't be in stores until next week!
According to Bilson, "I already know what Saint's Row 4 is about, and it is wilder than [Saints Row: The Third]. It's a good example of how you take what you have and you say, 'What can happen in the next?'"
Remember, Saints Row: The Third is a game where a fighter jet chases a porn star on a hoverbike (see the screenshot to your left) through the streets of a city controlled by pro wrestling mobsters… who use dildo-shaped baseball bats when they want to send a message.
Wilder than that? Hello "Adults Only" rating.
[Source: G4's The Feed]