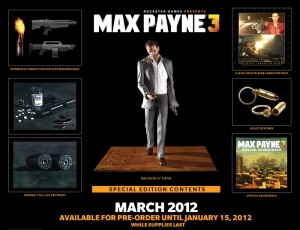 Max Payne 3 is really coming. After years of false starts and delays, the game is finally on track for a March 2012 release. And Rockstar plans to celebrate with the release of a massive Special Edition of the game that must be pre-ordered before January 15, 2012.
Retailing for $99.99, the Max Payne 3 Special Edition will include a copy of the game and a ton of other cool content. I think my favorite piece of included swag is the bullet keychain with a screw-off back.
Even if bullet keychains aren't your thing, there's sure to be something you find cool within this package. Here's what else you'll find in the Max Payne 3 Special Edition:
10″ tall Collectible Max Payne Statue created in a collaboration between TriForce and Rockstar Games.
Series of game-inspired Original Still Life Art Prints that depict some of Max Payne's inner demons and vices.
Copper and brass-plated iron, bullet-shaped Bullet Keychain featuring a screw-off back.
Classic Multiplayer Character Pack of eight playable multiplayer characters for Max Payne 3 multiplayer, including fan favorites from the original Max Payne and Max Payne 2 like Max in his Max Payne 2 outfit, Mona Sax and Vladimir Lem.
Disorderly Conduct Multiplayer Weapons Pack for Max Payne 3 multiplayer that includes the Hammerhead Auto Shotgun, G9 Grenade Launcher and Molotov cocktail.
Max Payne 3 Official Soundtrack featuring the game's instrumental score.