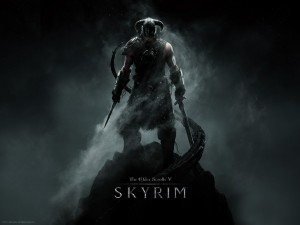 In an announcement surprising to no one, Bethesda Softworks said they've shipped 10 million copies of Elder Scrolls V: Skyrim for the PC, PS3, and Xbox 360. In PC games alone, it outsold all other PC games three to one in the first month of its release. Digitally speaking, it's also the "fastest selling title in Steam's history," according to Jason Holtman, Director of Business Development at Valve Corporation.
Skyrim has also been raking in countless awards and attention, from Game of the Year at Spike TV's VGAs to Raptr's Most-Played Game of 2011. G4TV, Official Xbox Magazine, and Machinima.com also gave Skyrim their Game of the Year Award. This comes as no surprise, seeing as this same developer also got game of the year in 2006 with Elder Scrolls IV: Oblivion and in 2008 with Fallout 3.
I haven't played any of the Elder Scrolls games, but this might be the year that I cave and get one. I might start with Oblivion and then ease my way into Skyrim. Don't be alarmed – that sound you hear is just my backlog weeping.