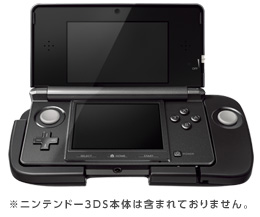 Nintendo has announced that the Circle Pad Pro will be released on February 7 (the same day as Resident Evil Revelations) as part of a massive release schedule update for the 3DS, DS, and Wii. The infamous second 3DS control stick will be sold exclusively through GameStop stores (and on GameStop.com) for $19.99. Nintendo also confirmed that Kid Icarus: Uprising will be released on March 23.
In non-3DS release news, a trio of Nintendo-published Wii games will make it onto stores shelves in early 2012: Rhythm Heaven Fever on February 13, PokePark 2: Wonders Beyond on February 27, and Mario Party 9 on March 11.
Hit the jump to view the complete 3DS, DS, and Wii release schedule (first party and third party) for the first three months of 2012.
3DS
2K Play
Nicktoons MLB 3D – March
Capcom
Resident Evil Revelations – February 7
Konami
Metal Gear Solid 3D: Snake Eater – Q1 2012
Pro Evolution Soccer 2012 – January
Namco Bandai Games
Tekken 3D: Prime Edition – February
Tales of the Abyss – February 14
Nintendo
Kid Icarus: Uprising – March 23
Sega of America
Crush 3D – Q1 2012
Mario & Sonic at the London 2012 Olympic Games – February 14
Ubisoft
NCIS – March 6
Horses 3D – March 6
Funky Barn – Q1 2012
Rayman Origins – Q1 2012
3DS eShop
Collecting Smiles
Colors! 3D – Q1 2012
Nicalis
NightSky – Q1 2012
VVVVVV – Q1 2012
Nintendo
Sakura Samurai: Art of the Sword – Q1 2012
Dillon's Rolling Western – Q1 2012
Kirby's Block Ball – Q1 2012
Renegade Kid
Mutant Mudds – Q1 2012
Shin'en Multimedia
Fun! Fun! Minigolf Touch – Q1 2012
Jett Rocket Super Surf – Q1 2012
WayForward
Mighty Switch Force – Q1 2012
Zen Studios
Zen Pinball – Q1 2012
Wii
2K Sports
Major League Baseball 2K12 – March 6
GameMill Entertainment
Country Dance: Special Edition – February 1
Konami
Karaoke Joysound – Q1 2012
Nintendo
Rhythm Heaven Fever – February 13
PokePark 2: Wonders Beyond – February 27
Mario Party 9 – March 11
WiiWare
Nicalis
La Mulana – Q1 2012
DS
2K Sports
MLB 2K12 – March 6
Atlus
Shin Megami Tensei: Devil Survivor 2 – February
GameMill Entertainment
Silverlicious – March 20
Xia Xia – March 20
Gogo's Crazy Bones – March 20
Mentor Interactive
Chess for Kids – February 14
Naraba: The Labyrinth of Light – February 21
Naraba: The Mysterious Palace – February 21
DSiWare
Cosmigo
Box Pusher – Q1 2012
Cypronia
Cake Ninja – Q1 2012