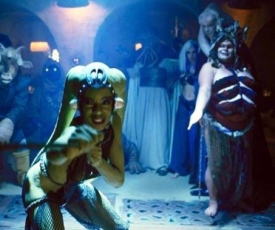 OK, we don't know for sure that you'll be dancing for Jabba in Kinect Star Wars, but the recently released ESRB Rating Summary confirms that the game will include a "dancing mini-game" with "revealing outfits." Sure sounds like the Jabba's Palace scene from Return of the Jedi to me:
In the dancing mini-game, some female characters perform suggestive moves (e.g., gyrating their hips/buttocks) and wear revealing outfits (partially exposed cleavage/buttocks).
So allow me to amend the headline to say "Dance for Jabba in Kinect Star Wars while your character wears Leia's gold bikini!" (OK, we don't know that either, but I know you're all thinking it).
Yeah, this is going to be the greatest Star Wars game ever.