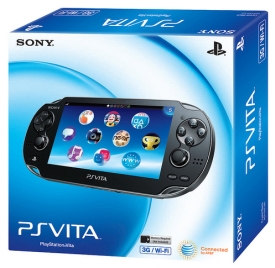 With the launch of the PlayStation Vita exactly two months away, Sony has released a detailed outline of the handheld's launch plans including day one games, launch window games, and prices for every announced peripheral.
As you know, the Vita will be available in three different packages. A "First Edition" bundle will be released on February 15 (which is less than two months away) that includes a carrying case and Little Deviants. February 22 is the official launch day, which will see the release of a Wi-Fi model available for $249.99 and a 3G/Wi-Fi model available for $299.99. All Sony-published launch games will be available on the 15th to support the "First Edition" bundle.
In addition to the system itself, every Vita system includes six Augment Reality Play cards and one voucher to download a handful of augmented reality mini games from the PlayStation Network.
Hit the jump for the complete list of every launch day and launch window game.
SCEA Pre-Launch Titles (2/15)
Escape Plan (PSN Only)
Hot Shots Golf: World Invitational
Hustle Kings (PSN Only)
Little Deviants
ModNation Racers: Road Trip
Super StarDust Delta (PSN only)
Uncharted: Golden Abyss
Wipeout 2048
Third Party Pre-Launch Titles (2/15)
Blazblue: Continuum Shift Extend
Lumines: Electronic Symphony
Rayman Origins
Ultimate Marvel vs Capcom 3
Pre-Launch Accesories (2/15)
4 GB Memory Card – $19.99
8 GB Memory Card – $29.99
16 GB Memory Card – $59.99
32 GB Memory Card – $99.99
Starter Kit (w/ 4 GB Memory Card) – $39.99
In-Ear Headset – $19.99
Carrying Case – $19.99
Travel Pouch – $19.99
Protective Film (2 Pack) – $9.99
Card Case – $5.99
Cradle – $19.99
AC Adaptor- $14.99
USB Cable – $14.99
Third Party Launch Day Titles (2/22)
Army Corps of Hell
Asphalt: Injection
Ben 10: Galactic Racing
Dungeon Hunter Alliance
Dynasty Warriors Next
F1 2011
FIFA Soccer
Michael Jackson: The Experience
Plants vs. Zombies (PSN Only)
Shinobido 2: Revenge of Zen
Tales of Space: Mutant Blobs (PSN Only)
Touch My Katamari
Virtua Tennis 4: World Tour Edition
SCEA Launch Window Titles
Gravity Rush
MLB 12: The Show (3/6)
Reality Fighters
Unit 13
Third Party Launch Window Titles
Lego Harry Potter: Years 5-7
Disgaea 3:Absence of Detention
Ninja Gaiden Sigma Plus
Ridge Racer
Silent Hill: Book of Memories (2/28)
Supremacy MMA: Unrestricted
Launch Window Accesories (Spring 2012)
Portable Charger – $49.99
Car Adaptor – $14.99