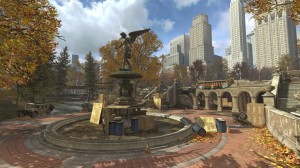 To your left, you'll find a screenshot from "Park" (click to enlarge), a Central Park-themed map that'll be included in the first round of DLC for Call of Duty: Modern Warfare 3. According to Infinity Ward Community Manager Robert Bowling, the DLC pack containing "Park" will be available for Xbox 360-owning Call of Duty Elite users on January 24.
But here's where things get interesting. Activision signed an agreement with Microsoft to release all Call of Duty DLC on the Xbox 360 first. But, the publisher has also promised all Call of Duty Elite subscribers that they will receive DLC before the general public. As those two statements can't be easily reconciled, somebody (probably PS3-owning Elite subscribers) is going to get screwed.
PC and PS3 gamers had to wait a month after the maps were made available to Xbox 360 owners to play Black Ops DLC. Who knows what a staggered release schedule with five separate groups will look like?
We'll have to wait until 2012 to find out more, as Activision confirmed that more information on "Park" and the rest of the DLC pack will be released next year.