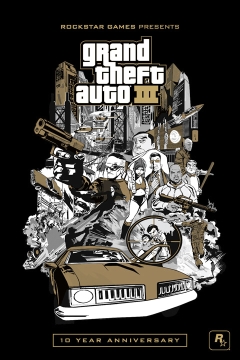 So you're on the lam for a crime you most definitely did commit, and you need something to pass the time. Why not check out the December 15 release of Grand Theft Auto III: 10 Year Anniversary Edition on Android and iOS devices?
Available for the low, low price of $4.99 (some might say its a steal), the mobile version of GTA3 will be supported by the following devices at launch:
Apple iOS Devices: iPad 1 & 2, iPhone 4 & 4S, iPod Touch 4th Generation
Android Phones: HTC Rezound, LG Optimus 2x, Motorola Atrix 4G, Motorola Droid X2, Motorola Photon 4G, Samsung Galaxy R, T-Mobile G2x
Android Tablets: Acer Iconia, Asus Eee Pad Transformer, Dell Streak 7, LG Optimus Pad, Motorola Xoom, Samsung Galaxy Tab 8.9 and 10.1, Sony Tablet S, Toshiba Thrive
Five bucks? Like GTA3's protagonist, I'm speechless.