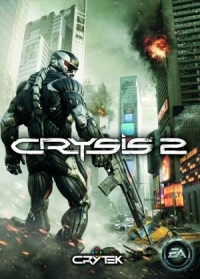 TorrentFreak has posted a list of the five most pirated games on the PC, Wii, and Xbox 360 (apparently, PS3 games aren't pirated enough to be counted). Congratulations Crysis 2! You're the most popular game that no one wanted to pay for (but still wanted to play) in 2011!
In addition to Crysis 2's "victory" over the PC version of Call of Duty: Modern Warfare 3 as the most pirated game of 2011, we also learned that Super Mario Galaxy 2, Gears of War 3, and Xenoblade Chronicles were popular with pirates. Arr matey! Nintendo should have announced a North American release date for Xenoblade a tad earlier.
Notably absent from the list is GOTY stalwarts Skyrim and The Legend of Zelda: Skyward Sword.
But here's the full list:
Top 5 Pirated PC Games
1. Crysis 2 (3,920,000 downloads)
2. Call of Duty: Modern Warfare 3 (3,650,000 downloads)
3. Battlefield 3 (3,510,000 downloads)
4. FIFA 12 (3,390,000 downloads)
5. Portal 2 (3,240,000 downloads)
Top 5 Pirated Wii Games
1. Super Mario Galaxy 2 (1,280,000 downloads)
2. Mario Sports Mix (1,090,000 downloads)
3. Xenoblade Chronicles (950,000 downloads)
4. Lego Pirates of the Caribbean (870,000 downloads)
5. FIFA 12 (860,000 downloads)
Top 5 Pirated Xbox 360 Games
1. Gears of War 3 (890,000 downloads)
2. Call of Duty: Modern Warfare 3 (830,000 downloads)
3. Battlefield 3 (760,000 downloads)
4. Forza Motorsport 4 (720,000 downloads)
5. Kinect Sports: Season Two (690,000 downloads)