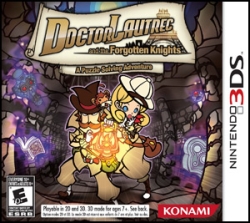 Welcome to a very abbreviated edition of the new release report.
This week sees the release of Doctor Lautrec and the Forgotten Knights, a Professor Layton-like puzzler from Konami for the 3DS.
Also available this week is I Heart Geeks for the DS and a quartet of PC budget releases: Fritz Chess 11: Grandmaster Edition, Vampires vs Zombies, Mahjongg 4 Deluxe, and The Number Devil.
It's a slow week to be sure, but things will definitely pick up next week with the release of Star Wars: The Old Republic.