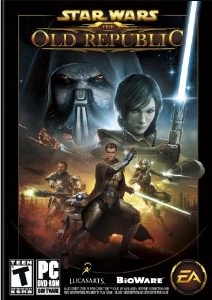 This is the news post where we'd normally list all of this week's new releases. However, there's only new release to talk about, so for this week, this is the news post where we talk about Star Wars: The Old Republic.
The Old Republic is the second attempt at a Star Wars MMORPG and it combines the talents of BioWare, LucasArts, and Electronic Arts while making liberal use of the Knights of the Old Republic setting last seen in the much-maligned Star Wars: Knights of the Old Republic II: The Sith Lords.
BioWare promised to have the game out before the end of the year and they made good on their pledge as The Old Republic will be the final game released before the calendar turns over to January.
So enjoy the rest of your 2011 folks! We'll be back with another New Releases report in 2012!