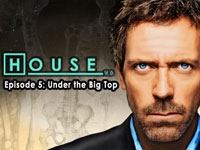 Maybe it's just me, but it feels like a new episode in the House M.D. adventure game series and another version of Adventure Island are a part of the Nintendo Download every other week.
The two game franchises tag team this week's Nintendo Download as House M.D. Episode 5: Under the Big Top has been added to the DSiWare Shop and the Game Boy version of Adventure Island is now available on the 3DS eShop.
Here's what else you'll be able to download from the DSiWare Shop, 3DS eShop and Wii Shop this week:
House M.D. Episode 5: Under the Big Top (DSiWare) – Dr. Gregory House and his elite diagnostic team race against the clock to unravel a medical mystery involving a middle-aged circus manager who is strangled by a horse.
Adventure Island (3DS eShop) – Master Higgins' princess has been kidnapped, and he is the only one who can save her. To aid in his search, he'll need to equip his skateboard and use a variety of weapons as he fights his way through eight different worlds.
Xmas Puzzle (WiiWare) – Xmas Puzzle is a game in which you must solve progressively more difficult puzzles as you advance through the plot. As many as four friends or family members can enjoy playing at the same time.
Double Bloob (DSiWare) – Double Bloob is a cartoonish, arcade-style vertical shooter. The planet needs you! Bloobs have invaded the Earth and took a little dolphin named Will as a hostage! Don't let the Bloobs win!