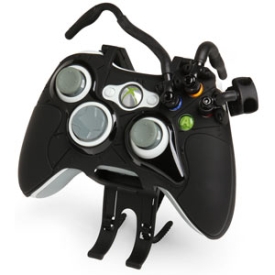 The following story is true. The names have not been changed to protect the guilty because it's funnier that way.
To your left is The Avenger, a controller adapter created by N-Control that can bring more precise control to your PS3 and Xbox 360 controller. It also opens up the frantic world of first person shooters to players with disabilities that may otherwise prevent them from using an unmodded controller. Score one for the good guys, right?
Sadly, the people that N-Control hired to run the customer service end of their business are a bunch of bad guys.
That company is Ocean Marketing and, thanks to the boneheaded responses by Ocean PR rep Paul Christoforo, their days of working game-related PR/customer service likely just came to an end. Christoforo was contacted by Dave, an N-Control Avenger customer who wanted to check on the status of his order. After being given the run-around by Christoforo (and being insulted for good measure), Dave took his case to the game media.
As usual in a situation like this, Penny Arcade came to the rescue. They published Dave's exchange with Christoforo and tried to make peace between the two parties. Christoforo then insulted PAX, insulted Mike "Gabe" Krahulik and, more or less, made an ass of himself.
In case you missed the link above, here it is again. Read the entire email exchange and watch as a man flushes his entire career down the toilet.
Couldn't have happened to a nicer guy.
UPDATE: N-Control has told Kotaku that Christoforo and Ocean Marketing no longer represent the Avenger Controller in any capacity. In other words, he's been terminated!