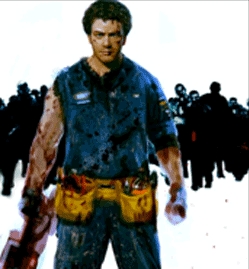 Over the last few days, Capcom has been hinting that Frank West is getting ready to take "a vacation to paradise." But now, Siliconera has published a rumor report that says Dead Rising 3 will take place in a small California border town with a small town mechanic in the main character's role. But… but… Frank West has covered wars you know, not repaired cars for show!
Yes, as sad as it may sound, Siliconera believes that the next Dead Rising game will star Rick, a small town auto mechanic who apparently takes his fashion cues from Bruce Campbell circa Army of Darkness (to be fair, so do I). Rick's goal is to escape the zombie-infested (and roadblocked) city of Los Perdidos, California in a plane before somebody nukes the town from orbit (isn't that the plot of Resident Evil 3?). Owing to its border town setting, the plot of Dead Rising 3 will also focus heavily on the plight of "illegals" escaping Los Perdidos. But in this case, the illegals are infected citizens that are just trying to survive.
After the reaction Capcom received for depicting African zombies being mowed down by white ubermensch Chris Redfield in Resident Evil 5, I wonder why anyone at Capcom would think that was a good idea.