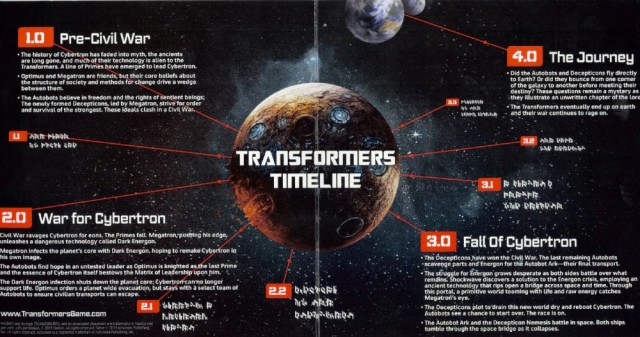 Activision has released a very cool timeline for their original Transformers games, War For Cybertron and Fall of Cybertron. The timeline reveals that Fall of Cybertron will center on the creation of a Space Bridge and the battle between the Autobots and Decepticons as they travel to Earth in search of Energon.
But a mysterious fourth section, titled "The Journey," shows that there is at least one untold tale in this version of the neverending war between the factions:
Did the Autobots and Decepticons fly directly to Earth? Or did they bounce from one corner of the galaxy to the another before meeting their destiny? These questions remain a mystery as they illustrate an unwritten chapter of the lore.
If that's not confirmation of another original Transformers game in 2014, I don't know what is.
[Source: Kotaku]