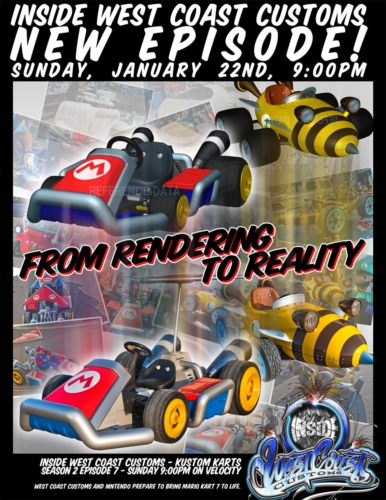 Vehicle modification show "West Coast Customs" has taken on an interesting challenge: to bring some of the karts in Mario Kart 7 to life.
Ryan Friedlinghaus, founder and CEO of West Coast Customs, said "When Don James, Executive Vice President of Nintendo America, requested the meeting and he told me he needed us to create some of the Mario Kart 7 cars in real life, I was excited and ready for the challenge. Then he said they need to have a hang glider for flying and a propeller for underwater maneuvering, I thought, he must be joking!"
Tune in to Velocity this Sunday, January 22, at 9 PM; watch and see if they are able to successfully create replicas – to scale! – of the Mario Kart and the Bumble V kart.