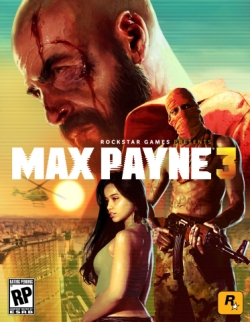 After years of false starts, delays, and possible cancellation, Rockstar Games has announced that, after one more delay, Max Payne 3 will be available in stores (for the PS3 and Xbox 360) on May 15 (May 18 for countries outside of North America)! PC gamers will have to wait until May 29 (June 1 for countries outside of North America) to get their hands on Max's next case.
"Max Payne 3 brings powerful storytelling back to the action-shooter genre," said Sam Houser, Founder of Rockstar Games. "Rockstar Studios are delivering a game that's both incredibly cinematic and very, very intense to play."
Max Payne 3 takes the titular anti-hero outside his New York City home and drops him in the sunny landscape of Sao Paolo, Brazil. There, he works as a bodyguard for Rodrigo Branco, a wealthy executive. But trouble finds Max wherever he goes when Branco's wife is kidnapped and Max is tasked with finding her.
In addition to the game's new locale, Max Payne 3 will also add a multiplayer component to the series for the first time.