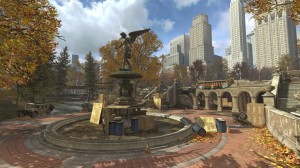 You knew they were coming, and now, Activision has announced the details of the first two downloadable maps for Call of Duty: Modern Warfare 3.
Scheduled to drop January 24 for Xbox 360-owning Call of Duty Elite subscribers, "Liberation" and "Piazza" will bring the war to Central Park and a serene Italian villa. In "Liberation," players will find "a vast, militarized landscape, ripe for long-range sniper and LMG fire, with mounted turrets on either end that lend power to anyone brave enough to expose themselves in exchange for deadly firepower." Meanwhile, "Piazza" is considered "the idyllic Italian getaway that is anything but, where tight corners and branching pathways pose great risk at every turn."
Call of Duty Elite users will also receive a variety of content drops throughout 2012. At least once per month, Activision plans to unleash a new piece of content on the CoD Elite community. In addition to the maps, another piece of content will launch in mid-February with two more scheduled for March. All told, at least 20 pieces of DLC will be released for Modern Warfare 3 between now and September.
All of the CoD Elite content drops will be available first for Xbox 360 owners with PC and PS3 subscribers getting them "at a later time."
But speaking of March, that's how long non-Call of Duty Elite subscribers will have to wait to get their hands on these maps, when the first "Modern Warfare 3 Content Collection" will be made available for download.
That's the sound of Activision selling many more CoD Elite subscriptions. Dismissed!