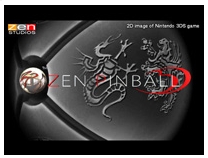 Are you ready for today's Nintendo Download? This week, we'll get new games featuring pinball, hip hop, the world's greatest thief, and more pinball…
Zen Pinball 3D – (3DS eShop) – Zen Pinball 3D for Nintendo 3DS brings an incredible stereoscopic 3D experience to the acclaimed video game pinball series for the first time, featuring four original, beautifully crafted tables.
101 Pinball World (DSiWare) – Complete special objectives to earn fun bonuses as you shoot your ball through pipes, up ramps and around mind-blowing obstacles. Choose from 2 game modes, Quick Play and Random, and blast through over 100 fun tables on 4 exciting worlds filled with eye-popping details.
Hip Hop King: Rytmik Edition (DSiWare) – Create rhythmic and melodic themes or compose whole songs using more than 170 carefully selected sound samples of drums, percussion, bass, melodic instruments and phonograph scratches.
Carmen Sandiego Adventures in Math: The Case of the Crumbling Cathedral (WiiWare) – Bad news, detective! There's trouble in Moscow, Russia. St Basil's Cathedral has disintegrated! All that's left is a giant pile of sand. Carmen Sandiego is back and only you can foil her V.I.L.E plans. Travel the globe, solve brain-twisting math puzzles, and catch the villain behind the Crumbling Cathedral.