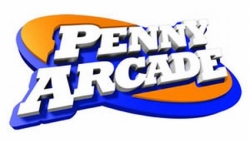 They created a fairly popular video game webcomic. They started an annual gaming convention that grew into a twice-yearly gaming convention. And on the side, they run a charity that helps sick kids. They are Jerry "Tycho" Holkins and Mike "Gabe" Krahulik, creators of Penny Arcade, and now they're making the jump into creating video game news.
Of course, Holkins and Krahulik don't do anything small. Penny Arcade isn't just fairly popular, it's the biggest webcomic on the Internet. Their gaming convention, PAX, rivals E3 in size, scope, and respectability. And that charity? Child's Play brought in $3.5 million last year.
To that end, the Penny Arcade pair have hired Ben Kuchera, the (now former) gaming editor of Ars Technica to head up their video game news coverage:
Tycho: We're bringing him on to create industry coverage you can read without holding your nose, essentially; I want a perspective, I want a Curator for the Internet's gaming content. In a couple words, I want something less insulting and disposable.
Kuchera and the Penny Arcade team are still working out the details on how his gaming coverage will be featured on the site, but his column should launch sometime in the next few weeks and new content will be posted every Monday, Wednesday, and Friday.