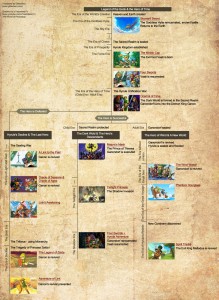 You didn't think the arguments over the Legend of Zelda's official timeline were over did you?
After revealing the official timeline to the English-speaking world, GlitterBerri has continued to translate Hyrule Historia on a page-by-page basis. Through her (and her team's) work, she has discovered that the official timeline is not quite the pre-planned story bible that some fans hoped it would be.
Instead, on page 238, series producer Eiji Aonuma falls back on the traditional Nintendo party line. He confirms that the gameplay hook of a Zelda game is created first and where it fits within the timeline is actually just a coincidence:
Chapter 2, "The Full History of Hyrule," arranges the series in chronological order so it's easier to understand, but from the very beginning, Zelda games have been developed with the top priority of focusing on the game mechanics rather than the story. For example, in Ocarina of Time, the first installment of the series I was involved in, the main theme was how to create a game with pleasant controls in a 3D world. Or in the DS game, Phantom Hourglass, the focus was having comfortable stylus controls. Finally, in the most recent game, Skyward Sword, we focused on an easy way to swing the sword using the Wii motion plus.

Thinking of that way of developing the games, it may be correct to say that the story is an appendix to that. I even think that setting Skyward Sword as the "first story," was merely a coincidence.
So the bottom line is that "The Official Zelda Timeline" is nothing more than an after-the-fact creation used to make Hyrule Historia more enticing to fans. And that's fine. The timeline as stated still fits together rather elegantly.
But I have to admit, knowing that there was never a plan does put a bit of a damper on the timeline. Especially since Skyward Sword had been billed as the "first story" in the Zelda series since it was announced.