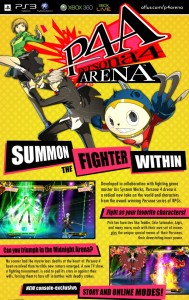 The Internet figured it out last week, but Atlus has just announced a North American release for the Persona fighting game Persona 4: The Ultimate in Mayonaka Arena, which they will bring to America as Persona 4: Arena.
Originally available only in Japanese arcades, PS3 and Xbox 360 versions of Persona 4: Arena are scheduled for a Summer 2012 release with console-exclusive story and online modes. And if you're worried about Atlus' lack of experience in the fighting game sphere, don't be, Persona 4: Arena is being co-developed by Arc System Works (creators of the BlazBlue series).
And be sure to click on the image to your left to see Atlus' full message to their Faithful about Persona 4: Arena with all the initial juicy details.