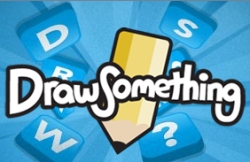 Wanna know what the hipsters at your neighborhood gastropub are tweeting about while you try to figure out why anyone would drink a can of Pabst Blue Ribbon?
It's an iPhone app called Draw Something, and it's been downloaded over four million times with very little press coverage to support it. Even celebrities like Questlove and My Chemical Romance have been sharing their drawings on their Twitter feeds.
CEO of OMGPop Dan Porter attributes the success of the game to social media platforms, saying "People are taking to these social channels to share their drawings, and that is causing the game to spread."
Draw Something is available for download on Android and iOS in both free-to-play and premium versions. If I were you, I'd see what the hype is all about before your mom starts posting Instagrams of her drawings on Facebook, and you're left in the dust.