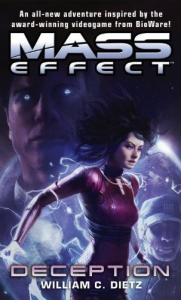 After a ton of Internet backlash, BioWare has announced that they will be re-editing their novel, Mass Effect: Deception. Irate fans went so far as to create an in-depth Google Document citing all of the issues in the book. They even color-coded them so you know how serious each offense really is.
BioWare's community coordinator, Chris Priestley, had this to say on the BioWare forums:
Mass Effect fans have been asking for a comment on recent concerns over Mass Effect: Deception. We have been listening and have the below response on the issue.

The teams at Del Rey and BioWare would like to extend our sincerest apologies to the Mass Effect fans for any errors and oversights made in the recent novel Mass Effect: Deception. We are currently working on a number of changes that will appear in future editions of the novel.

We would like to thank all Mass Effect fans for their passion and dedication to this ever-growing world, and assure them that we are listening and taking this matter very seriously.
I know people are upset about this, but this entire thing is comedy gold – so much so that even Penny Arcade mocked it, something that feels more endearing to me thanks to its well-placed Dragonlance joke.