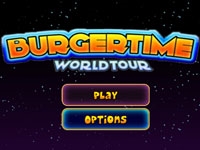 After making stops on the PlayStation Network and Xbox Live Arcade, BurgerTime: World Tour finally found its way to the Wii Shop Channel today.
The condiment compiler will be joined by two other titles:
Maru's Mission (3DS eShop) – Play as the ninja Maru in this action-packed side-scrolling game that will take you on a journey across the world. To rescue his girlfriend, Maru must face a number of mythological monsters.
40-in-1 Explosive Megamix (DSiWare) – Do you like arcade games – puzzles, action and shooting games? Then this is just what you have been waiting for. 40 games in one collection! Choose between classic games like Sudoku, Match-3 and Cooking games, and try out new and completely original fun games in various genres. Amazing graphics and unique features such as high-score tables and unlockable games will provide hours and hours of fun.
BurgerTime: World Tour (WiiWare) – This new version of the arcade classic features an innovative 3D environment and elevated retro game play. Enjoy challenging platform elements, boss characters and more than 20 meaty levels.