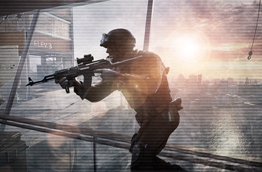 Yes, the third Call of Duty: Modern Warfare 3 content drop has a February 21 release date. But remember, that date is only for Call of Duty Elite subscribers. And only for Elite subscribers who own an Xbox 360 copy of Modern Warfare 3.
This drop consists of a single map, Overwatch, which is set in New York City and not for those who are scared of heights:
Shots break out on a construction site atop a New York City skyscraper. Battle takes place along two levels in a near symmetrical layout, with the central bridge and side routes open to attack from multiple angles. Watch your every step, as a lack of boundaries surrounding the perimeter leaves nothing to prevent you from falling far to the ground below.
It's likely that Overwatch will be made available to PC and PS3 players in March, as part of the first "Modern Warfare 3 Content Collection."