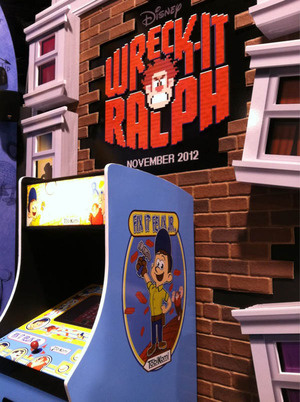 Disney's got an 8-bit video game-inspired film slated to come out later this year entitled Wreck-It Ralph, and it looks… well, not very much like a typical Disney film, to be sure.
Wreck-It Ralph (voiced by John C. Reilly) is the villain in an 8-bit arcade game, and he gets tired of his lot in life – namely to destroy buildings that Fix-It Felix (Jack McBrayer) then rebuilds. Felix then gets all the glory, too, of course. Wanting some glory of his own, Ralph jumps into newly installed first-person shooter Hero's Duty, determined to be a hero. Accidentally releasing an enemy that threatens the entire arcade, he must team up with Vanellope von Schweetz (Sarah Silverman) from Sugar Rush to save the day.
Director Rich Moore ("The Simpsons," "Futurama," and "The Critic") had this to say about the movie: "I love the idea of a very simple 8-bit video game character struggling with the complex question: 'isn't there more to life than the role I've been assigned?' In his quest for the answer, we journey with our hero through three visually distinct video game worlds. It's unlike anything anyone's seen before, and I'm thrilled to be to creating it here at Walt Disney Animation Studios."
Wreck-It Ralph is due out December 26. Hit the jump for some sweet screenshots from the movie, which look decidedly un-Disney-like. Expect the video game tie-in to be announced any time now.