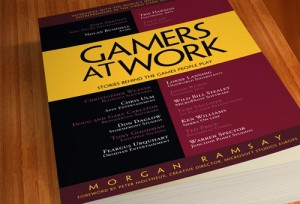 Ever want to know about the entrepreneurial history behind the start of the video game industry? Gamers at Work: Stories Behind the Games People Play is a book you might be interested in.
Written by Morgan Ramsay, the founder of Entertainment Media Council, this book brings the history of the video game industry to light through interviews with some of gaming's most successful – and notorious – names. Trip Hawkins, founder of Electronic Arts, is on the list, along with Warren Spector (founder of Junction Point Studios), Ted Price (founder of Insomniac Games), and, of course, Nolan Bushnell, the infamous cofounder of Atari… and the founder of Chuck E. Cheese.
The book takes readers – presumably gamers – on a journey through the turbulent history of the creation of the video game industry as we know it today, following the stories of these men and others through their successes and failures. After reading The Ultimate History of Video Games, I don't think anything can surprise me, but I'm definitely going to read this book anyway, because I'm a sucker for books about the industry.
To find out more about the book, check out the website at gamersatwork.org.